New Piano Selection
Roland FP-90-BK_DR_Stand_DP10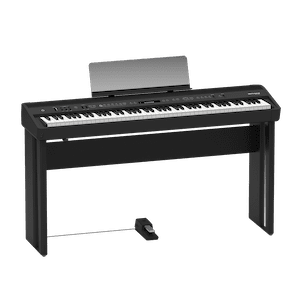 Roland FP-90-BK_DR_Stand_DP10
Model: FP-90-BK  |  Size:   |  Studio Finish: Contemporary Black  |             Warranty: 5 years
SOUND
SuperNATURAL Piano Sound

Not only sounds like a piano; it behaves like one.
Samples EVERY Note (Not Note Groups)
No Computerized Looping and Fading
16,000 Dynamic Levels
Acoustic Projection Sound System

Works just like Surround Sound
Different sounds come out of different speaker groups. (Action noise, main pitch, resonance.)

Comes from a $250,000 handmade concert grand.

Sound is "perfected" by Roland and added to the SuperNATURAL sound chip.
ONLY Roland has this sound.
Touch
Progressive Hammer Action (PHA-4)

No Springs in the Keys
Center-balanced, gravity-based action.
Same key weighting as a grand piano
Full-sized keys
$2,699.99
with bench, stand and 3 pedals
Roland Story:
Roland invented the digital piano in 1973 and has been on the cutting edge of digital music design ever since. Their founder Ikutaro Kakehashi, was one of the original founders of the global MIDI standard. Roland was the first company to create a touch-sensitive keyboard, the first digital stage piano (which Elton John made famous "back in the day"), the first built-in rhythm machine, the first wood-key action, the first EVERYTHING. Roland truly is the father of the modern digital piano.
In fact, Roland is the second largest MUSIC company in the World and they don't make a SINGLE acoustic instrument!
With their unrivaled sound and touch, FULL Bluetooth compatibility and 10-year warranties, Roland pianos are pretty tough to match in today's music industry.