New Piano Selection
Baldwin – BP1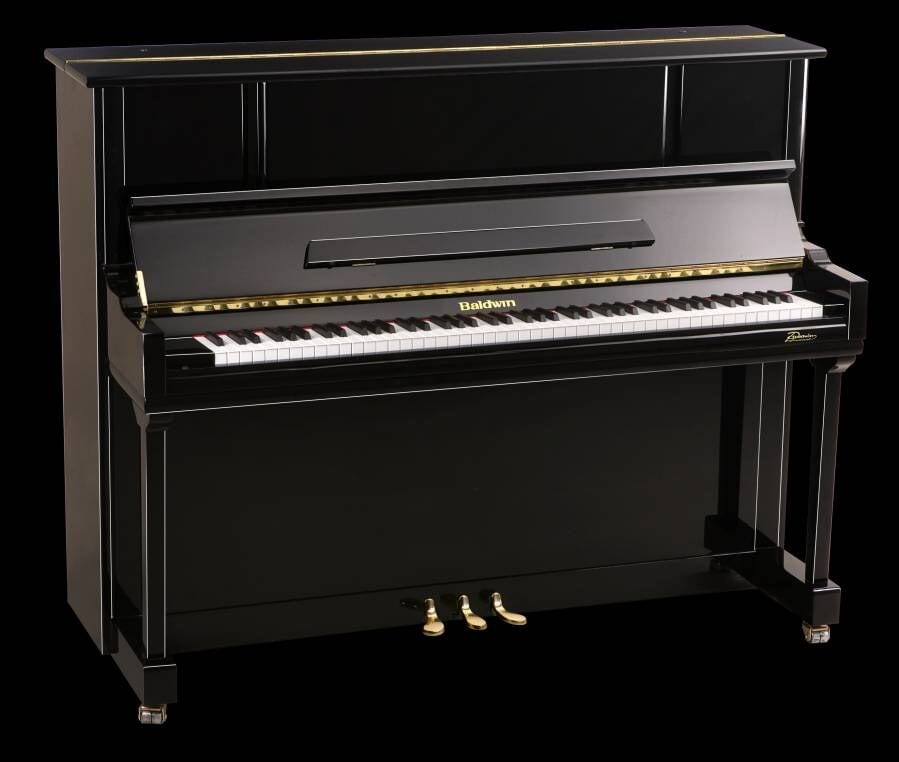 Baldwin BP1
Model: BP1  |  Size: 47\"  |  Studio Finish: Ebony Polish |  Warranty: 10 years
Famous Baldwin Features:
Sitka Spruce Soundboards and Ribs from Alaska
German Abel Hammers with T-Fasteners
Swedish Steel Strings
Nickle-plated, cut-thread tuning pins and multi-ply maple pin blocks
Hard maple rim
Double-width casters
Slow-close fallboard
New Baldwin-only Features:
Grands – Brass ferule legs for increased strength and durability
Grands – Slow-Close Piano Lid (pneumatic hinges) – 5'10" and higher.
Grands – Obtuse base corner angle for larger bass sound.
Uprights – Special Strungback System for richer bass, mellow tenor and bright treble
Uprights – Bass Sustain middle pedal AND "Practice Bar" function for quiet playing.
Uprights – Accujust Hitch Pins for more precise string alignment.
This piano is in stock.
The Baldwin story
Baldwin Piano & Organ was established in Cincinnati in 1862 as a retail venture and began manufacturing its very own line of pianos in 1890. As Baldwin grew into a $9 Billion conglomerate, it began to invest in other (non-musical) enterprises – which, unfortunately, drove the company into bankruptcy during the 1990s. Luckily, however, the piano company itself emerged unscathed and continued to produce Baldwin pianos for global distribution. Today's Baldwin pianos are made to the same standards that drove the company to its original success. Thanks to its iconic name, global production model and exclusive innovations, today's Baldwin pianos are recognized as the finest instruments the company has made since their original Cincinnati factory – a high honor indeed.
The Baldwin piano is an American piano brand and has a great deal of power, richness, and depth within the bass. The action is light, nimble, and easy to control. With these attributes, this makes a great piano for anyone at any skill level.
Gist is proud to be the region's only authorized Baldwin Piano dealership. We are thrilled to support this American icon as it is restored to its rightful place in the global piano market.