New Piano Selection
Roland LX-7-BW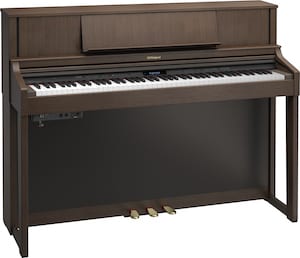 Roland LX-7-BW
 This is the last LX-7 we have in stock.
An Elegant, Sophisticated Home Piano with Truly Beautiful Sound
Since 1972, Roland has worked to create the ultimate piano experience, and our new LX pianos are among the most exciting yet. We wanted to build a luxurious upright piano for the connoisseur, with the rich sound and graceful appearance of an acoustic, along with a multitude of advantages only possible with a digital piano. The LX-7 is powered by the latest version of our acclaimed SuperNATURAL Piano Modeling technology, along with a unique keyboard that blends wood and molded materials for great feel and durability. The LX-7 connects via Bluetooth® technology to your smartphone or tablet so you can hear your music-making apps or online piano lessons through the powerful six-speaker sound system. And even though it's compact, the classically-styled LX-7 will definitely make a big impact in your home especially with a choice of finishes including polished ebony, brown walnut and contemporary black.
$2,999.99
Roland Story:
Roland invented the digital piano in 1973 and has been on the cutting edge of digital music design ever since. Their founder Ikutaro Kakehashi, was one of the original founders of the global MIDI standard. Roland was the first company to create a touch-sensitive keyboard, the first digital stage piano (which Elton John made famous "back in the day"), the first built-in rhythm machine, the first wood-key action, the first EVERYTHING. Roland truly is the father of the modern digital piano.
In fact, Roland is the second largest MUSIC company in the World and they don't make a SINGLE acoustic instrument!
With their unrivaled sound and touch, FULL Bluetooth compatibility and 10-year warranties, Roland pianos are pretty tough to match in today's music industry.